Lime Green Box Set
Absurda / 2008 / 720 minutes
Reviewed by Dugpa November 27th, 2008
Back in August, we had posted the press release for writer, director and artist David Lynch's personally selected works to be included in a box set titled "the David Lynch Lime Green Box Set. While including some previously released works, this all new DVD set includes many pieces new to DVD, one of which is a "Mystery disc" of content taken from Lynch's own personal archives and available only in this box set. It is only now that I can give you the full details of this release and the contents of the elusive "Mystery disc".
To start off, Disc 1 is the beautifully transferred and remastered version of Eraserhead that was originally released exclusively through David Lynch.com in 2003. It features an absolutely gorgeous transfer and is presented in its original 1:85 aspect ratio. The DVD also features the same extras as before including the theatrical trailer and over an hours worth of "Stories" about the film.
Disc 2 is the Eraserhead soundtrack which features the 2002 remastered version of the original soundtrack plus a bonus track.
Disc 3 features the Short Films of David Lynch which was previously released in 2002. This is a great release as it features all of Lynch's short films that previously unavailable. This disc features the Six Men Getting Sick (1966), The Alphabet (1968), The Grandmother (1970), The Amputee: 2 Versions (1974), The Cowboy and the Frenchman (1989), and Lumičre et compagnie: Premonitions Following an Evil Deed (1996).
Next we have Disc 4 which features the 1980 film "the Elephant Man". This was previously released in 2001 by Paramount and has been licensed for this box set. The Elephant Man is presented in 2.35:1 anamorphic widescreen. This features an audio mix approved by David Lynch and mixed by John Neff as well as Dolby 2.0 Surround in English and 1.0 Mono in French. Extras on this disc include a "retrospective by the cast and crew" including actor John Hurt, make-up man Christopher Tucker, director of photography Freddie Francis, producers Jonathan Sanger and Mel Brooks, plus a few other principles from the cast and crew. Also included is an interview with make-up artist Christopher Tucker and a "narrated photo gallery" including some behind-the-scenes pictures from the film. Finally, there is widescreen theatrical trailer for The Elephant Man.
Disc 5 is titled "The Elephant Man Extras" and features the 2005 documentary "The Real Elephant Man" by John Morrison which focuses on the real life of Joseph Merrick in Victorian England. The disc also includes new interviews with David Lynch and John Hurt. Total running time on this disc is about 1 hour and 5 minutes.
Disc 6 features the film "Blue Velvet" with a brand new Lynch approved 5.1 sound mix done by Dean Hurley that is exclusive to this box set. "Blue Velvet" is presented in 2.35:1 anamorphic widescreen. The final version of the DVD was not included with my press screener however, I have been told that all extras have been carried over from the previous 2002 version.
Disc 7 features the film "Wild at Heart". This disc was previously released as a Special Edition by MGM in 2005 and contains a Lynch approved 5.1 audio mix done by John Neff as well as a Lynch approved video transfer from the original negative. Extras for this disc include a great documentary that is tastefully done which offers insightful stories and details on the film. Another extra is a photo montage which has some really nice photos from the film. This disc is identical to the previously released MGM Wild at Heart Special Edition DVD.
Disc 8 features the DVD Debut of Industrial Symphony Vol. 1. The presentation is both in 4:3 fullscreen as well as 16:9 anamorphic widescreen. The picture quality is good and the sound is absolutely outstanding. It appears that the sound has been remastered and encoded in uncompressed LPCM audio. LPCM offers an alternative uncompressed audio format that is similar to CD audio, but with higher sampling frequencies and quantisations for you hardcore audiophiles. For those of you that were holding onto your old vhs or laserdiscs, you can safely toss them out once you pick up this disc. The disc also features archive interviews with Lynch, Badalamenti, and Cruise that were previously featured on the old Industrial Symphony Warner Bros. VHS tape. Running time on the interviews are 10 minutes and 40 seconds.
Disc 9 features "Dumbland". According to David Lynch, "Dumbland is a crude, stupid, violent, and absurd series. If it is funny, it is funny because we see the absurdity of it all." Dumbland is the same as the previous 2005 release and features all 8 Episodes of the Original Series.
Disc 10 is the highly anticipated "Mystery DVD". For months, little was known about this disc. Now for the first time, the entire contents are be revealed.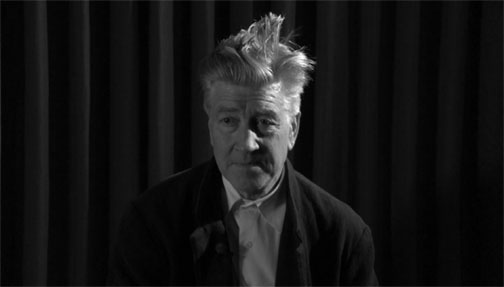 The first piece is an Introduction to the Mystery Disc which is done by David Lynch. As David Lynch puts it "This is a good disc". He wasn't kidding. The intro goes on to explain what is on the mystery disc as well as little footnotes which I shall mention below.
32 Deleted Scenes from Wild at Heart
The crown jewel to the entire box set. 32 Deleted and Extended Scenes from the film Wild at Heart. As Lynch mentioned in a previous interview, the video is "kind of funky" as it all comes from a surviving workprint. Watching these scenes was like taking a trip back in time and going back into the world of "Wild at Heart" that Lynch created. As Lynch put it, "It's like going back on the road with Sailor and Lula."
This collection of Deleted Scenes is very extensive. Many of the publicity stills that I've seen in various magazines are finally realized in these Deleted Scenes. It is a shame that the quality of the video isn't better, but finally being able to see them in any form is still a great thing. The scenes are presented in 2.35:1 anamorphic widescreen. The audio has been cleaned up, scored, and is even in 5.1. There is a classic scene that happens at Club Zanzibar that is absolutely brilliant and echoes moments in Blue Velvet. Strangely, it appears that parts from the Johnnie Farragut torture scene were already trimmed from this workprint. While we get to see a brand new scene where Grace Zabriskie's Juana plays the bottle game, it appears that unfortunately (or maybe fortunately for some) the end scene where Juana masturbates with Johnnie's dead head and has sex over Johnnie's corpse with Reggie were cut out of this workprint. Regardless, these scenes are pure GOLD and are will be sure to satisfy all hardcore David Lynch and Wild at Heart fans.
Out Yonder
David Lynch and son Austin Lynch star in two Episodes of the Series made for David Lynch.com. The episodes presented are "Teeth" which was featured on David Lynch.com as well as "Chicken" which I believe has never been released before and also stars Emily Stofle. Both Episodes are shot in Black and White.
Rabbits
Lynch has included for this release 4 Episodes of Rabbits. Although marked as Episode 1, 2, Naomi, and Scott, for those that watched these on David Lynch.com the first time around, it appears that Lynch has renamed the Episodes 7 to "Naomi" and Episode 6 to "Scott". He has also combined a few of the other Episodes to form the new Episode 1 and Episodes 2. The only Episode that comes to mind that seems to be missing is the Rebekah Del Rio Episode. Running time on all Rabbits material is a little over 40 minutes.
Cavalcade
The final section is called Cavalcade in which Lynch selects an assortment of short clips that have never been released before. The first selection is called "16mm" which is a Lynch 16mm film experiment conducted in 1967 and 1968 in Philadelphia which feature small parts of the Alphabet and the Grandmother. Lynch stars in this film. The next film is called "Absurd Encounter with Fear" which stars Jack Fisk and Peggy Reavey. This film was shot in 1967 and it is very reminiscent of the short films. Lynch also has included a "Fictitious Anacin Commercial" also starring Jack Fisk. The Cannes short "Scissors" is also included on this disc. One of the coolest things on this disc is the "Twin Peaks Festival Greeting" which is a surreal short film that Lynch made for last years Twin Peaks Festival. It only screened once and is in Black and white. In this film, Lynch is speaking backwards in what looks to be a cross between the floors of Eraserhead and the Twin Peaks Red Room. Sitting next to him is a plastic doll with the face of Laura Palmer. It was an absolute delight to see this rare gem. Next up is what Lynch calls a "Poor Man's Music Video" which he shot with Angelo Badalamenti out on the street for the song "A Real Indication". Finally, there is a "Hollyshorts Greeting" which is a fun piece that Lynch presented as his acceptance for the Hollyshorts 2008 Visionary Award. To top everything off, the set is held in packaging similar to the Twin Peaks Gold box and includes a 30 page booklet of images from Lynch's films with some extremely rare photos primarily from Wild at Heart and Eraserhead.
Parting Thoughts
I have to say that I am quite impressed with this boxed set. I also applaud Absurda for making the effort to license archive Lynch films from Warner Bros., MGM, and Paramount specifically for the inclusion in this box set. I was told that the negotiations to license these titles took over a year to put together. In addition, I'm guarantee it must not have been very cheap to get the rights to so many properties that Lynch doesn't himself own. While the suggested retail price for this set is fairly steep, if you look around, you should be able to pick this up on sale during the Holidays for around $100 which then breaks down to about $10 a disc. I'm really glad that Absurda has taken the time to make this happen and hope this is the start of more Absurda box sets to come of Lynch's Archive material. Let's cross our fingers and hopefully an Absurda release of Twin Peaks: Fire Walk With Me will be next on their list.
DISC SPECIFICATIONS
Disc 1
Eraserhead
DVD-Video
Dual-Layer Disc
Disc 2
Eraserhead Soundtrack
CD-Audio
2 Tracks + Bonus Track (2007)
00:48:54
Disc 3
David Lynch Short Films

DVD-Video
Dual-Layer Disc
Disc 4
The Elephant Man
DVD-Video
Dual-Layer Disc
Disc 5
The Elephant Man Extras
DVD-Video
Single-Layer Disc
Disc 6
Blue Velvet
DVD-Video
Dual-Layer Disc
Disc 7
Wild at Heart
DVD-Video
Dual-Layer Disc
Disc 8
Industrial Symphony No. 1
DVD-Video
Single-Layer Disc
4:3 Fullscreen Version
16:9 Widescreen Version
No Subtitles
Disc 9
Dumbland
DVD-Video
Single-Layer Disc
Region 1
NTSC
No Subtitles
Disc 10
Mystery DVD
DVD-Video
Dual-Layer Disc
Region 1
NTSC
No Subtitles
Running Time +/- 720 minutes
DVD: 5/9
All Discs Region 1 NTSC
9 DVDs + 1 CD
PKG: Deluxe Box Set Packaging
UPC: 858334001398
Street Date: November 25th, 2008
SRP: $179.95