Interview with
Ryan D. Adams – Executive Consultant CBS High Definition Remastering and
David S. Grant – Executive Director CBS High Definition Remastering
Conducted November 1st – November 9th, 2007
Copyright ©2007 Dugpa.com
The following interview was conducted over several days with the CBS High Definition Remastering Team of David S. Grant and Ryan Adams.
Dugpa: So how did you both get involved with the Twin Peaks Gold Box DVD project?
Ryan Adams: We received a call from Ken Ross from CBS Home Entertainment in NY asking us to look into what elements we had, what condition they were etc…We dove into the archive and realized we had access to the original camera neg. and audio. Once it was a go we contacted David Lynch's office to let him know our plan asked if he'd like to be involved in the process, obviously, we were thrilled when he said yes.
Dugpa: What can you tell me about the work you did on the transfers?
Ryan Adams: We started off by bringing David over to Modern Video where we were performing the picture part of the remastering. We sat down with Latte's and chocolate croissants and went through the pilot and an episode from season 2 and went through scene by scene to set the exact color look that David wanted. We then used those episodes as our guides. David Grant and I then went to Chace productions where we mixed the brand new 5.1 audio for all the episodes. We completed a 5.1 mix of an episode and laid it off and sent it to David for his review and were beyond pleased when he called to sign off on the first pass of the mix. This was a special title for us not only because were both fans of David's but because we really got to roll up our sleeves and get into the creation of it all. We had a great time working with Charlie (de Lauzirika) the DVD producer on creating the menus and helping out on the Slice of Lynch shoot at the Bigfoot Lodge. Ken Ross, Jeff Nemerovski, David Grant and I had a great time diving into things like the packaging, picking the images for the post cards and creating a great website. The true blessing was how approachable David Lynch was, every time we wanted to run something past him or get his sign off, Ken, David (Grant) and I would just head up to Lynch's house for a cup of coffee and a discussion.
Dugpa: When did you start working on this set?
Ryan Adams: We first started up last October, I must admit we're a little sad to be completed but it is great to know we now have a life long relationship with David and his amazing crew.
Dugpa: What difficulties did you encounter during this project?
Ryan Adams: The one difficulty that ended up working out was at one point some of the original negative was incomplete on a few episodes, we ended up going up to David's house and rolled up our sleeves and went through his side storage room and started going through boxes marked Twin Peaks, it was amazing to be surrounded by all this material not only from Peaks but Blue Velvet, Wild at Heart, etc…In the end we found a few missing reels of film and headed back to re-transfer them.
Dugpa: Were there any negatives to scenes from the Episodes completely lost?
Ryan Adams: Nothing was ever lost, there was missing neg. but we did in fact find it in David's storage closet so everything, all episodes were complete.
Dugpa: Was there anything unique that you guys found when looking through Lynch's vault?
Ryan Adams: We were allowed to go in and look for the negative, which we found, as long as that's all we looked through or discussed.
Dugpa: What can you tell us about the process of doing the negative transfer to digital?
Ryan Adams: We scanned the orig. neg. and then performed a scene by scene color correction based off of our session with David, once completed we output to HD CAM SR and then performed a full DRS pass to clean up any negative dirt, hairs, scratches, etc…The negatives were in good shape and took very well to the color timings.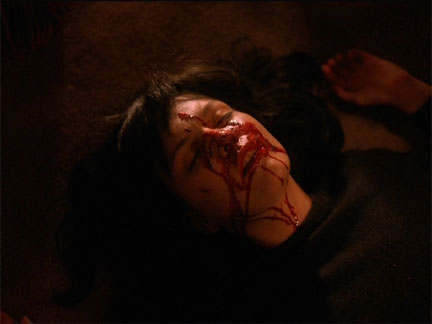 Dugpa: For the original Season 2 DVD set, some fans were surprised with some minor alterations in both sound and video. Most notably the video in Episode 14 during the Maddy death scene and the audio at the end of Episode 28 where Cooper spots Windom Earle seemed to be omitted. Were these changes done intentionally?
Ryan Adams: No changes were done, seeing as we went off the original cut camera negative, we put it out as it was cut together and intended.
Dugpa: I've been reading that there are a few TV series these days that were originally shot in 4:3 are now being reframed and transferred to fit 16×9 widescreen displays. Was there any talk about doing this for Twin Peaks?
Ryan Adams: No, we would never take David's originally framed aspect ratio and manipulate it to get a 16×9, we kept everything organic.
Dugpa: Can you confirm for me what the original aspect ratios were for the TV series including the Pilot?
Ryan Adams: 1:33.
Dugpa: What approach did you use when remixing the new soundtrack in 5.1?
Ryan Adams: We simply went along with the integrity of the original mix and spread it very organically.
Dugpa: Did David Lynch give you a specific direction regarding the sound mixes?
Ryan Adams: David just wanted to make sure we kept it organic. It was great because there was no need for us to try and re-invent the wheel. These episodes were mixed so well to begin with we just opened them up and spread them where necessary.
Dugpa: What was the reason for not including a DTS track for this set?
David Grant: The DTS really falls under the DVD department. We turned over the 5.1 and other completed tracks to the DVD department. Beyond that I don't know what decisions were tossed around.
Dugpa: What type of direction did Lynch give you regarding the color timing?
Ryan Adams: Setting the color look with David was one of the very first things we did after getting all the elements rounded up and it definitely laid the foundation on just how involved David was going to be in this project, once David came into the bay we started going through scene by scene and he would add a little contrast in places, he'd darken it up a touch to add in a little mood, then he added a touch of that coral look…and it all just came alive. That involvement we had from David in the beginning and really across the board on this project is what really helps make this release Complete and Definitive. I loved the fact that David took a very theatrical approach to timing the series, that's one of many things that makes Twin Peaks stand out from other series.
Dugpa: What was Lynch's reaction once he saw the amazing work you guys did on the transfers?
Ryan Adams: David was very complimentary through out the entire process, not only on the remastering aspect but also on everything from the packaging to the menus to picking the post cards and even sitting around his conference table drinking coffee and signing some of the post cards for us to include in the release, you name it, he was involved in it. It was great, there were even a few times when Ken Ross would fly out from NY and he David (Grant) and I would drive up to Lynch's house and sit around and work it all out.
Dugpa: I had read that Episodes 1-7 were re-color timed using the Hi Def Masters from Artisan. What were the major differences from a technical standpoint between how the Artisan transfers were done versus the new CBS DVD transfers for the Pilot and Episodes 8-29?
Ryan Adams: From a technical stand point, Artisan did a good job with the original film to HD transfers of Season One. We simply took their existing masters and re-color timed them based off of Lynch's exact notes so the entire boxed set would be consistent.
Dugpa: At the end of Episode 7, before the credits role, the CBS DVD version is a bit different than the one in the Artisan set. The Artisan set added a frame of the TP sign at the end whereas the CBS version fades to black. I recall the original TV version fades or maybe cuts to a "To Be Continued" title. Did Lynch make this request to change the last frame before the credits?
David Grant: For Episode 7, we created it as it aired. If Artisan added that frame they didn't have David's approval since he wasn't involved in their release. We try as hard as possible to master shows as they aired.
Dugpa: Which episode was your favorite to do the transfers and sound mixes on?
Ryan Adams: Mine was the Pilot. I hadn't seen it since it aired, so to get in the color bay with David Lynch himself and start setting the look on the pilot was definitely the most amazing way to get this project jump started.
David Grant: The Pilot is amazing and I liked Episode 8 which was the first episode of Season Two and was an hour and a half long. We also worked on this one with David. I'll never forget him eating his chocolate croissants and drinking coffee in the bay.
Dugpa: What can you tell us about the Deleted Scenes that appear on the box set?
Ryan Adams: Charlie had located a handful of Deleted Scenes on video. Neither us nor Lynch's crew had any Deleted Scenes on film. David Grant and I took what Charlie had up to Lynch's house to view for him. Once we received his sign off we took the video, which was many generations old and performed what's called a color trim pass to it to clean it up.
Dugpa: Lynch is known for nixing Deleted Scenes on his previous DVD releases as he had once stated that Deleted Scenes must be presented in the highest possible quality and the quality must match the original film or they should not be included at all. With the original negatives destroyed, how were you able to convince Lynch to include the Deleted Scenes on the new Gold Box set?
Ryan Adams: Well, David (Grant) and I had gone through the inventory lists, the archives and even Eric and Jay from David Lynch's office looked into any places they could think of as well. Once we determined that those Deleted Scenes no longer existed we knew the video masters that Charlie had found were our last hope of getting any Deleted Scenes added. The great thing about David Lynch is he immediately sees the bigger picture. We went up to his house and showed him the multi generation video masters and once we told him these were floating around already in that shape and that indeed the original elements for all the Deleted Scenes were no longer in existence, he asked us if we could improve the quality. We said we'd do everything we could and he then gave us his blessing to clean them up and present them to the fans. We cross converted the DVD to a Digital Beta Cam and balanced out the color the best we could and added a little contrast to them.
Dugpa: Do you know if there are any plans to release the other Lynch properties owned by CBS DVD such as "On the Air" or "Hotel Room" TV Series?
Ryan Adams: We haven't heard of any talk of releasing them yet but if they ever do, were definitely on board to work with David again.
Dugpa: Do you know if there are plans to release the Twin Peaks Gold Box on Blu-ray?
Ryan Adams: It's currently in discussions.
Dugpa: What are your thoughts on Twin Peaks Episode 29?
David Grant: This is one of the top episodes of course. The Red Room scenes are amazing, the whole concept of acting and speaking backwards and then running the film in reverse is genius. The whole transformation of Kyle in the mirror scene is spooky.
Dugpa: What are your thoughts on Twin Peaks: Fire Walk With Me?
Ryan Adams: Well it was definitely intense…I would have loved to of seen more of what happened after #29 concluded but I really did enjoy the crazed trip Fire Walk With Me takes you on.
That's one of the things I love about David's projects, they are actual experiences. He invited David (Grant) and I to a pre screening of Inland Empire and after the screening I got in the car kind of exhausted because I was just taken on such an intense trip, it wasn't until hours later I was talking to Sydney, my wife and I was like, damn, that was a cool movie…
David Grant: I feel the same like with all of Lynch's movies Fire Walk With Me was such a different movie than the norm. After we left that screening of Inland Empire I wasn't sure that I could drive. We both weren't really able to talk for a bit. I felt dizzy. It was such a wild visual and audio ride it really fooled with my senses.
Dugpa: How would you describe your experience working with David Lynch?
Ryan Adams: Amazing, he's such a talented and inspirational guy, I was already a huge fan of his so after the first meeting I got in the car and called my wife to tell her what a great down to earth, spiritual guy he was.
Dugpa: What was the best part about doing this project?
Ryan Adams: All of it, to work on a series as extraordinary as Twin Peaks and to work with an artist we respected so much was a true blessing… and especially sitting around drinking coffee with David Lynch…how cool is that!
Special thanks to Ryan Adams, David Grant, Ken Ross, and Charles de Lauzirika for helping put together this interview. Photo L to R, David S. Grant and Ryan Adams at the CBS DVD Editing Bay. Photo L to R, Ryan Adams, David S. Grant, David Lynch, and Ken Ross at the Bigfoot Lodge. Photo by Renard Garr.Photo L to R, Ryan Adams, Madchen Amick, Kyle MacLachlan, David S. Grant, and Ken Ross at the Bigfoot Lodge. Photo by Renard Garr.