This year marks 20 years since the US theatrical release of the feature film "Twin Peaks: Fire Walk With Me". Below is a sample of a few of the amazing pieces that will be shown at the exhibit.
Esao Andrews: "White Horse"
Ryan Heshka: The Voice of Love
Ryan Heshka: The Voice of Love (Detail 1)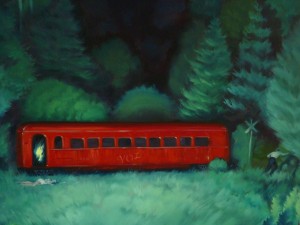 Ryan Heshka: The Voice of Love (Detail 2)
Martin Wittfooth: Fire Walk With Me
The good folks that put together the amazing Twin Peaks 20 Art Exhibit last year will be doing a new show to honor Fire Walk With Me's 20th Anniversary happening in Santa Monica's Copro Gallery between April 21 through May 12, 2012. "This new exhibition will include all of the artists from the previous show, and will also expand it to a gallery setting with an artist reception featuring unreleased music from Twin Peaks and many suprise guests! The fact that the gallery is located in part of what used to be a train station, fits the theme of Fire Walk with Me particularly well since Laura Palmer was murdered in an abandoned train car by the tracks which became ground zero for the TWIN PEAKS franchise. "
Keep checking back in the next few weeks including at the Dugpa.com forums where we you will find exclusive information on Fire Walk With Me 20th Anniversary events.