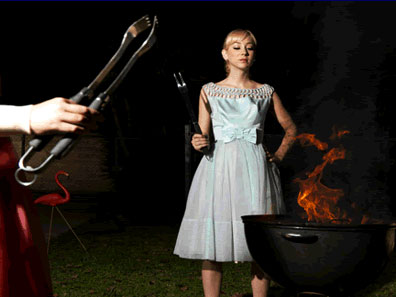 Los Angeles, CA (May 4, 2009)–Iconoclastic filmmaker David Lynch and music
visionary Danger Mouse (aka Brian Burton) are collaborating on their first ever
project and installation, Dark Night of the Soul, on view at the Michael Kohn
Gallery from May 30 through July 11, 2009.
For their premiere collaboration, David Lynch and Danger Mouse have
designed a two-room installation at Michael Kohn Gallery capitalizing
on the interplay between the music from Danger Mouse's and Sparklehorse's
album Dark Night of the Soul and the artwork David Lynch created for the album,
allowing the mediums of art and music to complement one another. Fifty of
Lynch's photographs are mounted on aluminum panels that seem to float on the
gallery walls, reinforcing the moody rhythms of the music from Dark Night of the
Soul that will play throughout the gallery. The installation encourages a fully
enveloping experience that surpasses the individual visual or auditory
elements.
Dark Night of the Soul began when Danger Mouse, who has been a fan of
Lynch's for many years, approached the filmmaker about a possible
project. The artists worked together and were inspired by each other—
Lynch making photographs influenced by the original songs that
Danger Mouse and Sparklehorse were creating. The result is Dark Night of the
Soul, Danger Mouse's first-ever gallery installation, and David
Lynch's first exhibition at Michael Kohn Gallery in nearly 15 years.
(The first was in 1995, titled One through Ten, and featured
photographs and drawings by the artist.) Lynch's most recent
installation, Diamonds, Gold and Dreams, was on view in the Cartier
Dome at Art Basel Miami Beach in December 2008.
Dark Night of the Soul is also the title of a full-length album and
illustrated book ($50, published by powerHouse) combining the talents
of Danger Mouse, David Lynch and celebrated rock recluse Sparklehorse.
In addition to the 100+ page book of David Lynch's original
photographs, the album features artists such artists as the Flaming
Lips, Iggy Pop, Frank Black, James Mercer (The Shins), Julian
Casablancas (The Strokes) and Suzanne Vega, among many others.
For more information on works by David Lynch, please contact Michael Kohn
Gallery. For more information on Dark Night of the Soul and the illustrated book,
visit www.dnots.com.