You can now Pre-Order the new David Lynch Lime Green DVD Box Set from Amazon.com. The Going price is reduced from the MSRP by 30% and can be grabbed at $125.99. By clicking here to Pre-order from Amazon.com, you will be helping support this site. I've just placed an order for mine. 🙂 For those who've forgotten here are the specs: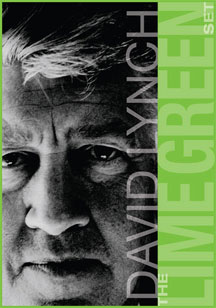 Writer, director and artist David Lynch has personally selected these works, including many pieces new to DVD, and a "mystery disc" of content taken from Lynch's own personal archives and available only in this box set.
BOX SET INCLUDES:

ERASERHEAD – REMASTERED VERSION
ERASERHEAD SOUND TRACK
THE SHORT FILMS OF DAVID LYNCH
THE ELEPHANT MAN
THE ELEPHANT MAN EXTRAS – DVD DEBUT
WILD AT HEART
INDUSTRIAL SYMPHONY No. 1 – DVD DEBUT
BLUE VELVET – NEW LYNCH APPROVED 5.1 SOUND MIX
DUMBLAND
MYSTERY DISC DVD DEBUT
BOOKLET FEATURING RARE LYNCH IMAGERY
Twin Peaks Fans From France, We Need Your Help
There are some great threads over at the Twin Peaks Gazette and the Dugpa.com Discussion Board where we are trying to find out once and for all what the French Girl at Hap's is saying in a scene from Twin Peaks: Fire Walk With Me. Check out the clip below and help us figure this one out once and for all!
New David Lynch 5 Disc DVD Collection Hits Australia
There's a new David Lynch Collection 5 Disc DVD set hitting Australia on September 29th. The new collection will include the following:
Eraserhead (1977) – the seminal and surreal early classic for the first time on DVD in Australia

The David Lynch Short Film Collection – a collection of Lynch's student films from the 60s and short works from the 70s/80s

Dynamic 01 – a recent series of shorts written, directed, edited and scored by Lynch available exclusively on davidlynch.com

Lynch 01 – Compiled from 2 years of footage, this feature-length documentary is a fascinating and intimate portrait of Lynch's creative process as he completes his latest film, Inland Empire. Includes a series of bonus clips and teasers

Dumbland – Lynch's macabre animation series
Interesting to note is that EZDVD.com.au claims it will be Region 1,2,3,4,5,6 meaning Region 0 or all Regions. I will try and confirm this as this would be great news for those that have been so far unable to pick some of these films up due to Region availability. Discuss this article over at Dugpa.com Discussion Bard.
New David Lynch 3 Disc DVD Collection Hits the UK
Wow. Lynch DVD sets a plenty! There's another new David Lynch 5 Disc DVD Collection that recently was released in the UK. The new collection includes the following:
ELEPHANT MAN

MULHOLLAND DRIVE

INLAND EMPIRE
It looks as though there may not be much in the way of extras, but you can check out the review over at DVDTimes. Discuss this article over at Dugpa.com Discussion Bard.