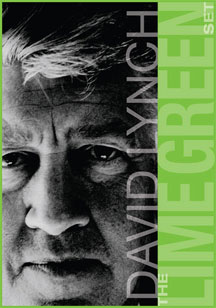 Writer, director and artist David Lynch has personally selected these works, including many pieces new to DVD, and a "mystery disc" of content taken from Lynch's own personal archives and available only in this box set.
BOX SET INCLUDES:

ERASERHEAD – REMASTERED VERSION
ERASERHEAD SOUND TRACK
THE SHORT FILMS OF DAVID LYNCH
THE ELEPHANT MAN
THE ELEPHANT MAN EXTRAS – DVD DEBUT
WILD AT HEART
INDUSTRIAL SYMPHONY No. 1 – DVD DEBUT
BLUE VELVET – NEW LYNCH APPROVED 5.1 SOUND MIX
DUMBLAND
MYSTERY DISC – DVD DEBUT
BOOKLET – FEATURING RARE LYNCH IMAGERY

Running Time +/- 720 minutes
DVD: 5/9
9 DVDs + 1 CD
PKG: Deluxe Box Set Packaging
UPC: 858334001398
Street Date: November 18th, 2008
SRP: $179.95
Update: I have gotten confirmation that the Blue Velvet and Wild at Heart DVD should be identical to the existing releases with the exception that Blue Velvet will be getting a brand new 5.1 re-mix for 2008 which will be done by David. I'm surprised as the previous one sounded pretty good but maybe they found additional elements for this one. Industrial Symphony will be remastered for this set and will remain exclusive for this release along with the Mystery DVD which still remains a mystery. According to Absurda, only David knows what is on the Mystery DVD and he isn't spilling the beans. The box set will be distributed by Ryko, so expect it at most stores and online retailers. I have to say that the most interesting aspect of this release is Absurda's ability to secure titles outside of Lynch's current ownership. I can only hope this means that at some point, a Twin Peaks: Fire Walk With Me deluxe set could be a reality. One can only hope… Stay tuned. Discuss this article over at the Dugpa.com Discussion Board.