December 17th 2006
Lots of Lynch Interviews
Check out the many Lynch Articles and Interviews below:
Thanks to Amy, Patrick, and everyone else that sent in the links.
Lynch's New Book Catching the Big Fish Official MySpace Website
Check out the new website here. Also to note there may be a signing in Los Angeles on Sunday, January 21st. Check back here for an update. Also, you can check out an excerpt from the Audio Book version that is read by none other than David Lynch himself.
December 8th 2006
First Review of Twin Peaks Season 2.1 in German from CBS Paramount
For those of you that can read German, here is a link to the very first review of Twin Peaks Season 2.1 on DVD. Some things to note. The reviewer seemed to like the audio and video quality. And as rumored, there are no Log Lady Intros in this set. Also missing are the script notes and commentaries which is understandable as Lynch is not fond of commentaries and unlike the Season 1 set, Lynch has supervised the transfers on this set. As reported earlier, the US release will be in a single box set and will likely be released on April 10th. Also to note, the review mentions that the Season 2.2 box set will include some extras, which will most likely be new interviews with the cast and crew.
IFC Article on Lynch
Click here to check out an article on Lynch Films from IFC. They also have a Podcast on INLAND EMPIRE.
Lynch on 9/11 Questions
Click here to check out an article on Lynch and 9/11 Questions
Thanks to Christoph Brunner, Amanda, and Matthew Buzzell for the links.
December 5th 2006
New INLAND EMPIRE Myspace Page
Help support the film by adding INLAND EMPIRE to your Myspace Friends list. http://www.myspace.com/isupportinlandempire
View the David Lynch World Guests Interview
Thos of you that had problems getting the Demonoid torrent to work can view the interview here. Check it soon as the link may not be online too long. Special thanks to Stefan from the Netherlands for the link!
December 4th 2006
Lynch EW Interview Online
Check out the interview by clicking here. Of special note, on the bottom of the article, it mentions an INLAND EMPIRE DVD release date of Summer 2007, the upcoming Dynamic Vol 1 DVD in January, a Painting Exibit in Paris in March, and a new Twin Peaks Soundtrack coming soon. Thanks to Marshall Evans for the link.
Tentative Release Date for Twin Peaks Season 2 in the US… April 10th 2007 According to TVShowsonDVD.com
TVShowsonDVD.com Reports that the latest tentative date for release in the US is April 10th. Check out the article by clicking here.
News from this Weekends New York and Boston INLAND EMPIRE Screenings
Lynch, Dern, and Theroux were at this weekends INLAND EMPIRE screenings at New York's Lincoln Center and Boston's Brattle Theater. Here are some quotes from some of those that attended:
…they mainly talked about the filming of "Inland," and how Lynch would just write scenes and the actors would basically film them, enjoying the freedom, as Theroux put it, to simply focus on the scene and not worry about any sort of greater context and what it would mean for the rest of the film. Some Lynch highlights included a man asking him if the number 47 has any significance in the film (which it does, to be sure) as it is seen at various moments. Lynch simply stared at the man, raised the mic up and said "Heavy…significance." He then went on to another question. Another guy asked him "…what are the chances of there ever being another Twin Peaks movie that ties up all the loose ends?" Lynch also stared at him, asked "What are the chances?", held up his hand forming a zero, and said, "Zero." Granted, he could've been using the questioner's semantics as an out, b/c the guy specified the film as one that would "tie up all the loose ends," but I digress. They also gave out free samples of his new coffee line, though they were all out before I could get any. Also, #1 highlight for me: afterwards, my friend and I waited outside for him with some other people (because we're both dorks) and I actually got to shake the man's hand. My voice was quivering, but I sputtered something about what an absolute pleasure it was to meet him, and I managed to say that if he ever could release an extended version of FWWM on DVD, that it would be awesome. He looked me right in the eye
(still firmly holding onto my hand) and said "I tell you what, I'll do that just for you, man." What a cool guy.
…he (Lynch) came out with a woman with a viola and he said she'd do a little improvisional viola piece, and the woman did…she played a spooky little random viola piece and everyone clapped. Afte rthis David Lynch read a short excerpt from a poem regarding dreams (I wish I could recall it exactly but I was so excited it all sort of blurred togetrher). It was really cool and set up the film well. After the film there was a Q and A. I asked Lynch about his obsession with electricity through all his films, you know, what he found so fascinating about electricity and how it seems that electricity perhaps controlled people in his films… And in classic David Lynch deadpan style he replied that he found electricity interesting: "Cause electricity controls people." Everyone laughed and he continued, explaining that he doesn't understand why more people aren't fascinated by electricity and how it does control so much of our lives, as well as sometimes creating beautiful light and fascinating sounds and sometimes…danger…It was a really nice answer!
and one from a fan that got a hold of his coffee…
David gave out coffee and also packets of his own coffer brand. It is called "David Lynch Signature Cup" "Organic House Roast" There is even a quote by him on the packet 🙂 "It's all in the beans…and I'm just full of beans."… I had some of the coffee this morning and it was a "damn fine cup of coffee". After last night it was "a good wake me up."
Now you too can get some of Lynch's signature coffee…
http://www.davidlynch.com/coffee
Special Thanks to Josh LaCasse, Charles Pieper, and John Richard for the news.
World Guests Interview Now Online
The World Guests Interview is now online at Demonoid. I had another link but it doesn't seem to work. Hopefullly I'll have another one shortly.
December 2nd 2006
INLAND EMPIRE Trailer
Check out what appears to be the official INLAND EMPIRE Trailer on Youtube.com
December 1st 2006
INLAND EMPIRE Website Goes Live
The Official INLAND EMPIRE Website has been updated. They now have links to Reviews, the Poster, Theatrical Schedule, Stills and soon an Official Trailer.
November 29th 2006
Lynch and Dern get Special Distinction Awards at Independent Spirit Awards for INLAND EMPIRE
Check out the article here and here.
Lynch on Dutch Television on December 3rd
David Lynch will give a two hour interview on Dutch Television on December 3 (channel 3 at 20.20 CET). The interview will take place at one of Lynch's homes. The program is called 'World Guests' and will contain television fragments witch were chosen by Lynch and discussion on the fragments. Anyone watching this let us know how it is. Hopefully it will make its way to You Tube.
Thanks to Norbert Happé, Leo Faraon, and Joseph Rizzardo for the news.
November 28th 2006
Twin Peaks Season 2.1 German Box Set Screenshots
The website Areadvd.de has posted some screenshots of the Twin Peaks Season 2.1 box set. Some items of interest are that the first half of the box set will contain no extras. Extras will be in the second half of the Season 2 box set. There are also no log lady intros in this set. Extras expected in the second half of the Season 2 box set are new interviews with the cast and crew. Check out the screenshots here. Still no official word on the US release. Thanks to Christoph Brunner for the link.
Here are the episodes that will appear on the German Season 2.1 DVD Set:
Episode 8 (the giant is with you)
90:14
Episode 9 (coma)
44:52
Episode 10 (the man behind glass)
45:03
Episode 11 (Lauras secret diary)
44:55
Episode 12 (the curse of the Orchideen)
45:05
Episode 13 (Dämonen)
45:21
Episode 14 (lonely souls)
45:24
Episode 15 (walking travel with a dead one)
45:16
Episode 16 (self law)
44:45
Episode 17 (Bruderzwist)
45:18
Episode 18 (Maskenball)
45:20
Lynch Interview in Lodz
Lynch was in Lodz the other day and mentioned the following in an interview:
1. He is done with the classic methods of filmmaking.
2. He is working on some experimental music projects which he would like to elease in the Spring.
3. There will not be a shorter vrsion of INLAND EMPIRE.
4. "Twin Peaks is a finished thing."
We hope to have a full translation of the interview shortly. Lets hope that Lynch still finishes the FWWM Deleted Scenes before he closes the door on Twin Peaks entirely. Thanks to Wojciech Pus for the news.
November 16th 2006
INLAND EMPIRE Press Release and Website
A new website will be up that will give details on Theatrical Release Dates and Exclusive Clips. Bookmark http://www.inlandempirecinema.com/ Below are the current release dates from the Press Release.
INLAND EMPIRE OPENING DATES:
Wednesday, December 6, IFC Center — NEW YORK
Friday, December 8, Brattle Theater — BOSTON
Friday, December 15, Laemmle Sunset 5 — LOS ANGELES
Friday, December 15, Laemmle Playhouse 7 — PASADENA
November 15th 2006
Lynch and Cow Return
David Lynch was in front of the Tower Records on Sunset with Cow today. Read about it by clicking on the images below.
Lynch Returns with Cow Article in Variety
Special Thanks to James Eakins for the scoop.
Lynch to Distribute INLAND EMPIRE DVD with Rhino
Check out the article over at Variety.
INLAND EMPIRE Clip Online from the AFI Fest
Check out the INLAND EMPIRE clips over at Kafard.com.
INLAND EMPIRE in Greece
INLAND EMPIRE will be screened at the 47th Thessaloniki International Film Festival on the 23rd of November.
Catherine Coulson at Twin Peaks Arizona Screening
Catherine Coulson attended a screening of the Twin Peaks Pilot and the Amputee this weekend. During the Q&A, unprompted by any specific question, she offered the following information: "When I ask David if we're done with Twin Peaks, he just smiles and says 'There are still stories to tell'." When asked "Does that mean the door is not closed on the future of Twin Peaks?" she said "Absolutely not closed."
Thanks to Chrisostomos Maragoulis, Félix Bouchard, and Matteo Yenkala for the news and links.
November 10th 2006
Lynch and his Cow Drums up Interest for INLAND EMPIRE
Lynch was spotted today on the corner of Hollywood and LaBrea.
Check out the video on Youtube.com
Or check out the story by clicking below:
More INLAND EMPIRE Links
Variety Piece on the AFI Screenings
New Photos Posted on an INLAND EMPIRE Blog
Twin Peaks Season 2 DVD
Well, I made a few phone calls to Paramount US, and they say there is no press release for the US Box set at this time. I guess we will just have to wait, although I can guarantee you that Season 2 will be released in the US in 2007. The question is not if, but when. Meanwhile, Norway, will also be getting the 2.1 set in January. Meanwhile, here is the artwork for the Season 2.2 German box set. Not sure why they repeated the Agent Cooper theme, but maybe that is what it will look like with a slipcover…
Thanks to all that sent in today's scoops.
November 7th 2006
Twin Peaks Season 2 DVD Set Box Art and Announcement for Europe in Two Sets – Updated
Well, it's about time! Today I have gotten word that Paramount has announced Season 2 to be split into two box sets with the first being set for release in January 2007. So far, I have links to Online Stores offering the first box set in Sweden, Italy, and now even Germany. From the looks of it, Twin Peaks Season 2.1 will be released in at the end of January with the second box set to follow in April 2007. Also of interest is that in Germany, Paramount  also seem to be offering a complete box set of Season 2 on 6 discs in October 2007 called "Twin Peaks: the Complete Mystery". We also know that the first half of Season 2 will be spread over 3 Discs (Sweden and Germany specs) or 4 Discs (Italy) which likely means not much room for extras. Hopefully the compression won't be too bad or maybe they will use double sided discs… All this is speculation for now, and specs are likely to change. For now, take a gander at the International box art and what may also be the US box art. It looks quite nice.
Special thanks to Sebastian Eklund, Christian Oscarsson, and Salvatore Iozzo for sending me the links!
INLAND EMPIRE at AFI Fest Mini Review by Dugpa
Well, last night I saw INLAND EMPIRE. While I could write a lengthy review, I think I'd rather keep it short and sweet. The look and feel, while it was filmed in DV, did work out quite nice. Those that were afraid that the film would look like the "Room to Dream" clip, no need to worry. There were moments that I was convinced that Lynch was using film. It looked THAT good. Others shots you could tell were definitely DV shots. I can see where Lynch finds his freedom in DV. Give it a few more years and I think he may be able to perfect it. The film was the most raw I have ever seen Lynch. The story reminded me a bit of Mulholland Drive, but it takes you places that Mulholland Drive couldn't. I did miss the music of Angelo Badalamenti, as I don't recall there being more than one piece by Angelo if that. While I really enjoyed the film, I think that this film is best suited for hardcore Lynch fans as mainstream audiences will probably not get it. Lynch is credited to most of the instrumental music on the film. Laura Dern was spot on. She reminded me a lot of a young Charlotte Stewart (Mary X of Eraserhead). Many of the themes were taken from some of Lynch's material on David Lynch.com. All in all, I can't wait to see this film again.
After the film was over, David Lynch, Laura Dern, and Justin Threoux did a Q&A session. Later, Lynch signed autographs and answered questions of the fans. One girl brought him a Cherry pie and a clean fork which Lynch seemed to enjoy. A question came up regarding the "legendary" Deleted Scenes of FWWM, to which Lynch responded "We're working on it." The night was a lot of fun and I was able to meet some of you that read the site.
October 30th 2006
Good Review of INLAND EMPIRE over at Aint It Cool News.com
Check out the latest review from Aint It Cool News.
October 27th 2006
New Track from Twin Peaks: Season 2 Soundtrack Posted up on Myspace!!!
Wow. What a way to end the week. First some potential news regarding FWWM and now Angelo has added a track entitled "Shelly Quits" and posted it up on Myspace.com. Enjoy and have a bee-utiful day. We are.
October 26th 2006
MK2 FWWM DVD in Fourth Quarter of 2007
According to the French DVD site, DVDRAMA, they have been told that MK2 plans on releasing FWWM in a 2 Disc Collectors Edition. The article claims that bonus features will include over an hours worth of Deleted Scenes supervised by Lynch. Below is the text and a rough translation:
Une annonce qui fait l'effet d'un tollé d'autant plus que cette nouvelle édition, contrairement à la précédente sortie le 8 décembre 2004, devrait s'enrichir de scènes coupées d'environ une heure supervisées par David Lynch.
Of special note, this new edition, contrary to the original release on December 8, 2004, will contain approximately an hour of Deleted Scenes supervised by David Lynch.
While this sounds like great news, I have been told that news as of last week was that Lynch and MK2 were still in negotiations. Hopefully with the news from the INLAND EMPIRE Q&A and now this… maybe… something is happening… I'll post a confirmation as soon as I get something solid.
Special thanks to Théophile Aries for the great scoop!
October 25th 2006
More Lynch Articles
Not much news to report. I'm anxiously awaiting the Los Angeles showing of INLAND EMPIRE. Maybe I'll see some of you in line.
Lynch and Zebrowski do Polish Night Music in New York
October 10th 2006
A Great Non Spoiler INLAND EMPIRE Review and News about Twin Peaks Season 2 DVD and FWWM Deleted Scenes
Patrick Meaney has a great review up on his blog. After the Q&A session, Lynch did a signing where he revealed that the 5.1 mixes for Season 2 were done and they sound great. He also revealed that the Deleted Scenes to FWWM were coming. Could it be that MK2 has finally worked out a deal with Lynch to get this to happpen? Thanks to Kristoffer Bjorkman for the link!
October 9th 2006
Lynch to Distribute Inland Empire Himself!!!
Taken from Comingsoon.net, and PRNewswire.com
Seeking to explore new methods of distribution, David Lynch has secured the rights for the US and Canada to his first digital video feature, INLAND EMPIRE.
Reaching an agreement with Studio Canal, Lynch proclaims, "It's a whole new world out there, even when it comes to distribution." The film's producer Mary Sweeney concurs stating, "David's decision to explore a new model of distribution is consistent with the fearless way in which he made 'INLAND EMPIRE.'"
Wow. what a turn of events. Check back for details as they become available.
Even More INLAND EMPIRE Spoilers and Reviews
Check them out below. Thanks to Ghostlife, Benjamin, and 232323 for the links!
INLAND EMPIRE Photos Online
Here's another website that has posted some INLAND EMPIRE press photos including ones that I haven't seen previously. Thanks to Amy for the link.
The Real Twin Peaks
Ever wonder what the real Twin Peaks looks like today? Well, Charles Ramsey has posted some great photos on his website, http://intwinpeaks.com/ of some of the original Twin Peaks filming sites. Best of all, he has included shots from the series to show in comparison. Thanks Charles. Great shots!
More Articles and Reviews on INLAND EMPIRE
Here's a few more for you all. Beware, there are some spoilers.
New York Times Interview with Lynch
September 20th 2006
Angelo Releases Sample of Twin Peaks Season 2 Music on Myspace.com
If you check out the Angelo Badalamenti Myspace Page, they have just released a piano version of "Love Theme" from the upcoming Twin Peaks Season 2 CD planned for a release to coincide with the Twin Peaks Season 2 DVD. Also, look below at what might be a picture of the upcoming CD's cover art. You can read the words "Where the birds sing a pretty song and there's always music in the air." Enjoy the tune. Hopefully he will post more.
Lynch Book Available for Pre-Order
Lynch has written a book entitled "Catching the Big Fish: Meditation, Consciousness, and Creativity" and will be available in Hardcover on December 28th, 2006. You can pre-order it from Amazon.com by clicking here.
September 12th 2006
Badalamenti to Release Twin Peaks Season 2 Music at the End of the Year Plus More!!!
I cannot believe that this is finally happpening, but you can check it out yourself. Yesterday on Angelo Badalamenti's Myspace Blog, he has posted the following:
Dear Fans,
We are currently putting together a CD collection of music from the second season of Twin Peaks. The album is set to be released towards the end of 2006 along side the second season DVD set.
We are also putting together an additional collection, consisting of more music from the entire series: The feature-length pilot, The 2 Seasons which aired on ABC, and the film Twin Peaks: Fire Walk with Me. We want your input!
Post your favorite Twin Peaks moments under the MORE MUSIC FROM TWIN PEAKS entry on Angelo's MySpace blog: http://blog.myspace.com/angelobadalamenti
September 6th 2006
INLAND EMPIRE Reviews
The first slew of reviews are coming in. Warning, there are major spoilers in these reviews, so read at your own risk. So far, the reviews are mixed, but for the hardcore  Lynch fans, I think we've got a hit on our hands. I'll post more tomorrow night as I get them.
INLAND EMPIRE Press Conference
Audio and photos from the INLAND EMPIRE Press Conference can be found here:
http://www.kafard.com/davidlynch/davidlynch_conferencevenice.html
Thanks to Chrisostomos Maragoulis for the link.
September 5th 2006
INLAND EMPIRE Exclusive Photos from the Venice Film Festival Pressbook
Gabriele has sent us some exclusive photos of INLAND EMPIRE from the Venice Film Festival Pressbook. You can also see some more photos on Gabriele's Blog. Enjoy!
Also, anyone attending the Film Festival that would like to submit a review of the film, please send it my way.
September 1st
Mulholland Drive and the Elephant Man in HD
Studio Canal has announced intentions to release Mulholland Drive AND The Elephant Man on HD-DVD in France, Germany and the UK in late 2006/early 2007 and it will include a transfer that uses "the VC-1 video compression format to ensure the best video quality" and "DTS-HD Master Audio to deliver superior sound quality that matches the HD video".
Apparently DTS-HD "allows for a "bit-for-bit" identical reproduction of the original master soundtrack". For more details check out the following article at  DVD Times. Thanks to Stephen Crompton for the heads up.
INLAND EMPIRE Adds 4 Minutes to Runtime
From the Venice Film Festival's site:
Sept. 6th at 6:30 p.m. SALA GRANDE
Golden Lion for Lifetime Achievement to David Lynch followed by:
INLAND EMPIRE by David Lynch (USA, 172′) cast: Laura Dern, Jeremy Irons, Justin Theroux, Julia Ormond. Thanks to Rusty Bomhof for the news.
Third Annual Russian Twin Peaks Meeting
The 3d Annual Russian-speaking Twin Peaks Fans Meeting was held between August 5th an 6th in forests near Saint-Petersburg, Russia. Previous meetings took place
in Kyiv (Ukraine). The event gathered David Lynch's fans from Kiev & Vinnitsa (Ukraine), Moscow & Saint-Petersburg (Russia) and other places. Fans were united through the website www.david-lynch.info.
This time Meeting's organizers put TP fans into a long tangled path in search of the legendary Black Lodge. It began with three bodies wrapped in plastic on the shore of the Gulf of Finland. Click below to see pictures from this event.
http://users.livejournal.com/_subtle_/40488.html
August 23rd 2006
FWWM Fight Website up on Myspace.com
Johnny V. of the original FWWM Fight Website asked me to let people know that he has created a new FWWMFIGHT website up on Myspace.com for the 14th Aniversary of Twin Peaks: FWWM. They even have their own Myspace.com Group where you can leave messages and whatnot.
INLAND EMPIRE Details on Indiewire for the New York Film Festival
Taken from Indiewire: A Polish woman looks, intently, into someone or something … an actress (Laura Dern) is warned that her new movie is cursed … a rabbit-headed family perform sit-com actions on a stage set as if engaged in a solemn ritual … Such are just a few of the elements and recurrent motifs of The Inland Empire, a mesmerizing surge through countless looking glasses that lands us on the far side of the land of nightmares. Lynch's first foray into high-definition video is just as visually stunning as his work in 35mm, but the long gestation period of his new film (he shot on and off over two years, and wrote as he went) has allowed him to give his own uniquely epic form to many of his primary concerns: the exploitation of young women, the mutability of identity, the omnivorousness of Hollywood.
July 29th 2006
INLAND EMPIRE NEWS
It seems that we have some news from the Venice Film Festival Website. INLAND EMPIRE will be 168 minutes long. No word yet on an official release date.
Best of David Lynch Weekend DVD Available
You can order a DVD of the highlights (3.5 hours) of the David Lynch Weekend by clicking here.
July 10th 2006
Lynch Gets Golden Lion Lifetime Achievement Award in Venice
The award will be presented to Lynch on September 6th, in the Sala Grande of the Palazzo del Cinema, along with the premiere screening of INLAND EMPIRE.
Check out the article. Thanks to Rusty Bomhof for the article.
New Dumbland Documentary "Does that Hurt You?" Now Available on DVD
You can now order this DVD, limited to 100 copies. The DVD is Region Free and coded for PAL. Check it out by going to the Hula Offline Website.
INLAND EMPIRE to Screen at Venice Film Festival
It looks like Inland Empire will finally be screened at this years Venice Film Festival from August 30th through September 9th.
Twin Peaks Festival 2006 Happening July 28th through the 30th
Anticipated celebrities this year include Pamela Gidley (Teresa Banks), Jennifer Lynch, Kimmy Robertson (Lucy Moran), Andrea Hays (Heidi), and Jan D'Arcy (Silvia Horne) Click below for more details.
Looking for Twin Peaks fans for New TV Show
Fanatical Productions Inc., a subsidiary of Peace Point Entertainment Group, is producing a 26-part documentary-style series about the culture of fandom. Each episode will focus on a different program- everything from The Dukes of Hazzard to Sex & the City, and of course Twin Peaks – and will feature 2-3 fans of the program from Canada and the US. They are looking to explore the program through the eyes of the fans.
Their series will unearth why the fans love the show, how following and analyzing the show makes them feel, the impact of the program, what their friends and family think, and the culture of fandom (different shows express their fandom differently – look at Sex & the City and Star Trek).
The program will air in Canada on TVtropolis, a new Canadian Network launching under the Global Television Network family of channels.
Twin Peaks hit the airwaves with a bang and kept us intrigued for 2 years. To this day we still question the symbolism and influence of the series. If you're a big fan and would like to share your love of the series with others, or would like more information regarding their program, please send an email to:
May 30th 2006
Lynch Interviews and Lectures Online
Things are just starting to settle down over here so I thought I would post a few overdue Lynch lectures and interviews until I can get my bearings. Will check back in a few weeks. Also, the site may be down temporarily as we move to a new host. More news to follow.
Lynch Interview with Discussion on Season 2 DVD Transfers on Amazon.com
Lynch Interview on TM – Text Only
Lynch Interview on Myspace.com – Text Only
Special Thanks to WGBH and Emerson College, Andrew Schaad, Haakon Wheeler, and everyone that sent me the Amazon.com link
April 30th 2006
Out for a Few Weeks
I'll be out for the next few weeks. A few things to report are that INLAND EMPIRE will not premiere at this years Cannes Film Festival. Rumors have been floating around that it should be released sometime around November of this year. As for what that means for other Lynch Projects, you can expect that work on the transfers for Twin Peaks Season 2 will probably be delayed until after INLAND EMPIRE has completed. Lets cross our fingers and hope that this still means a late 2006 release will still be possible. In other Twin Peaks related news, I heard back from MK2 that they are still working with Lynch to try and come to some sort of agreement and that a re-release of FWWM on DVD would come out no earlier than early 2007. Hopefully I will have something to share in the coming weeks. Recently Studio Canal has announced releases of the Elephant Man and Mulholland Drive on HD DVD. I'll post some details when I return. Finally, the website NotComing.com recently published a very cool Guide to Twin Peaks. It's definitely worth checking out. See you all in a few weeks with some more Lynch updates and cool links to some interesting things.
March 22nd 2006
Blue Velvet Remix on IFILM
Check it out here.
Dumbland DVD Available for Pre-Order
You can now see Dumbland without being a member of David Lynch.com. Pre-Order it today on Amazon.com:
Dumbland Article in Juxtapoz Magazine
The new issue of JUXTAPOZ (March Issue #62) has a 6 page article on Dumbland (titled "dumbstruck – David Lynch's animation debut).
Special Thanks to suano and seeker.kc for this weeks scoops.
March 1st 2006
Lynch Interview on TM at Beliefnet
Check out this recent interview with David Lynch by clicking here.
A WEEKEND WITH DAVID LYNCH!!!!  – Repost
Some of you may be wondering how consciousness+peace+meditaion=David Lynch???? Whether this equation has you saying "what the @*!%?" or "of course! and I want whatever it is that he has" you can join David Lynch for a an exciting weekend in Fairfield, Iowa for the conference March 24-26th.
Those interested, make sure and register soon as space is limited!
Lost Highway Ultimate Edition in the UK
As you may know, Lost Highway Ultimate Edition has been released in the UK. The version offered by Cinema Club is the same one ported from the MK2 French Edition that features a new HD transfer. If you are looking for a way to get this on DVD still and have a DVD player that will play Region 2 DVDs, you can place an order through Amazon.co.uk and have a copy shipped to you for as little as $26 US. Click here to grab your copy.
Thanks to Mark Bonnlander for the heads up.
February 18th 2006
Room to Dream DVD Available for Free – Get Your Copy Today!!!
Now here's something big worth talking about. I just received a copy of the DVD Room to Dream. Digidesign has put this FREE DVD out as a promotional piece by Digidesign which showcases Lynch's work with DV and Avid. They take a scene that David has filmed on DV and basically go step by step on how he used the Avid to design and complete the scene. The scene features appearances by John Neff, Mary Sweeney, Chrysta Bell, as well as some of the actors that have been attached with INLAND EMPIRE. While there is no confirmation to whether or not the scene on the DVD is from INLAND EMPIRE, I would be willing to bet that it is. The DVD is so good that I would have actually paid to own a copy, but best of all, the DVD is available for FREE. That's right my friends. Click here for more details on how you can get yourself a copy and see some really cool stuff. After watching the DVD, I sure as hell want to upgrade to an Avid. Check out the screen caps below.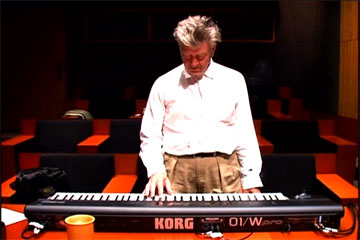 Special thanks to Nathan Stack for the great find!
February 2nd 2006
Dune Ultimate Edition DVD
Well, got the disc a few days back. It's good to finally have a good transfer of this film. Even if you are not a big Dune fan, let me tell you that worth the price alone are some totally awesome behind the scenes footage and candid shots of Lynch with long hair and big sunglasses. Also in this edition, it features many drawings Lynch did for the film. I can now see why Lynch insists that his Deleted Scenes are released complete. The Dune Deleted Scenes were great to see, but could have been so much better if they took the time to restore them and properly score them. Lets keep our fingers crossed that the next Deleted Scenes released from a Lynch film get the five star treatment thy deserve.
Sweden Online Store Reports Season 2 in November
One of Swedens Online Retailers, CDON.com has update their site last month and now lists Twin Peaks: Season 2 on DVD for a November 2006 release. This sounds about right, as Lynch will not be ready to supervise the transfers until after he is done shooting and editing INLAND EMPIRE, which he is still in the process of shooting as you read this.
January 23rd 2006
More Details on Dune Ultimate Edition DVD at DUNEINFO.COM
Check out DuneInfo.com for all the details on the new Dune Ultimate Edition DVD from Universal.
January 21st 2006
First Dune DVD Review is Online – Extended Edition in 2.35:1 and Deleted Scenes Confirmed!
Check out the review over at Andyfilm.com. Very interesting and to note, the first DVD to feature Deleted Scenes on a David Lynch film. Unfortunately, I am certain that it is to his disapproval, as the scenes are presented unfinished with production sound.
January 10th 2006
Dune DVD Press Release up at DuneInfo.com
Check out the press release straight from Universal Home Video posted up at DuneInfo.com. Note that the aspect ratio is still up in the air, as on the press release, it is listed incorrectly as 1.85:1. If anyone has an early pre-release copy and can verify the aspect ratios on both the theatrical and extended versions, it would be greatly appreciated.
UK Gets the Lost Highway Ultimate Edition DVD
Coming on February 6th from Cinema Club, the UK will be treated to what looks like a direct port from the MK2 Ultimate Edition DVD of Lost Highway. Thanks to Robert Svensson for the news!
January 4th 2006
A Weekend with David Lynch and John Hagelin, PhD.
Exploring the Frontiers of Consciousness, Creativity and the Brain…
There will be an event coming up in March. You can get the latest info by checking out the David Lynch Foundation on MySpace.com. More details soon.
Dune DVD US Release Only 27 Days Away and Lost Highway Non-News
While we still can't confirm the actual specs for the Dune DVD release (they seem too good to be true), I recently received an email from Universal stating that they are sticking to the specs that are listed on their Website. If it's true, then we will be in for a treat. Also, when asking about Lost Highway, here is the response I got:
No revised date has been announced for the release of "Lost Highway."
I figured as much. Thankfully we have the MK2 Lost Highway Ultimate Edition to hold us over until a US release sees the light of day.
Twin Peaks FWWM Deleted Scenes
Although no real news, for Deleted Scenes to FWWM, MK2 has assured me that they are still trying to work out a deal with Lynch to do the scenes for an upcoming DVD re-release. It's good to know that they are still trying.