Mark Rance Interview
Conducted November 3rd, 2001
Copyright 2001 Dugpa.com
Disclaimer: Although there are mentions to future Twin Peaks DVD sets in this interview, Artisan has yet to make an official announcement. Enjoy the interview!
---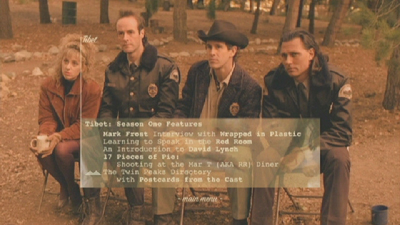 Dugpa: Tell us about the extent of your work with the upcoming Artisan Twin Peaks First Season Special Edition DVD set.
Mark Rance: Well, actually, we did both the Fire Walk With Me DVD and the first seven episodes of Twin Peaks for Artisan. Originally it was going to be a joint project mainly to make it more coherent for David Lynch. It was something he had requested. Both studios hired us and the projects were to proceed and be done simultaneously. Artisan postponed its release and we finished Fire Walk With Me first. We came back to work with Artisan this year when they put it back on the schedule. What we had done for both was to begin with interviews with people from a list that David Lynch had prepared for us of about 30 of the actors from the series who also overlapped into the movie. Over the course of a couple months, we went around the country and videotaped what we hope are interesting interviews for everybody. When we got to the television series, we started to talk to people behind the camera. Each of the first seven Episodes also have commentaries. Lynch did not want to do commentaries. He doesn't like them. So in the case where he was the director, for Episode 2, we went with Frank Byers, who shot the series. So if I remember correctly, there is commentary from Duwayne Dunham, Frank Byers, Tina Rathborne, Lesli Linka Glatter, Tim Hunter, Caleb Deschanel, Harley Peyton, Robert Engels, and then for Episode 7, instead of Mark Frost, we have a commentary by the Production Designer, Richard Hoover. Now with Frost, working with the editors of Wrapped in Plastic Magazine, we did something kind of goofy and unique. I think it's actually pretty good in a way. They are in Texas on the phone doing an interview with Mark Frost who is in New York, on the phone, and I am in New York shooting Mark Frost, speaking with the editors in Texas who are also being shot on video. We cut about a 20-minute interview with Mark Frost about the creation of the series and his work on it. It turned out very nice. We also did a piece that introduces viewers to David Lynch and his art' David Lynch the artist as much as David Lynch the filmmaker. It's really broad strokes. It's meant to give the viewer an overview that Twin Peaks comes from a place, a vision, it's not just coming out of the ether. We also made, for the lack of a better title, a production scrapbook, in which we now go to the video interviews we did with the cast, and edit together a piece about the First Season, which held a unique place in many of their memories.
It was very different when you are shooting a show and nobody knows what's going to come of it. Then of course, it became this sort of media monster, really, which is something we hope to address when we go to the Second Season. Finally, little Mike came in an did a short piece where he teaches you how to talk backwards. There's an Easter egg, and I won't say what it is, and it's really hard to find. The menu design is by Jean Paul Leonard, whose company is called 'Company Wide Shut.' It's a really beautiful, elegant menu design that also contains a six-degrees of Laura Palmer' guide to the series.
This gives you relationships, very quickly using the menu system. Then we also did this other thing where the editors in Wrapped in Plastic prepared a script to screen comparison from some articles they had done in Wrapped in Plastic. There is a guide to what you might call 'Missing Scenes', scenes that were written but were not shot, or scenes that were written and may have been shot, but are not in the finished episode. Finally, John Mitchell, who works with Wrapped in Plastic, had done a very nice interview with the owner of the Mar-T diner (the Double-R), will be included. We are going to be pursuing that as we go further into the seasons in terms of what happened to the diner.
Dugpa: So there are definite plans to release the rest of the series on DVD'
Mark Rance: To the best of our knowledge, yes. They are going to go through the whole 29 episodes.
Dugpa: One thing that fans have been hoping for is the inclusion of music in either the form of an isolated music track, or from a menu where you could choose songs to play. Part of the reason is because there was so much new music from the Second Season that was unreleased. Fans. Is there any chance of this getting released in any form on these upcoming DVD sets ?
Mark Rance: Unfortunately, no. However, maybe in one of the next sets we can get to it.
Dugpa: As far as extras go, can we expect to see the music video for the Twin Peaks Theme, 'Falling'?
Mark Rance: I'll be able answer that when we get to the Second Season. We plan on loading the Second Season with more of the stuff that accompanies Twin Peaks; satellite things like that. This box set was meant to introduce viewers to the making of' from the inside. The Second Season will be as much about the explosion of Twin Peaks as the arch to the end of the series. We hope to include many, many kinds of materials that have spun off from Twin Peaks.
Dugpa: I have read that Richard Beymers Twin Peaks behind the scenes photos may make it on to the DVD as stills.
Mark Rance: That is correct. We are going to hold that to the Second, and Third' what we are calling the 'Third Season" the last seven or nine Episodes that we are dividing the remaining Episodes into. We met with Beymer. The photos are great. A lot of them were shot towards the end of the Series, so we are going to try and keep them contemporary with the episodes around which they revolve.
Dugpa: That sounds great. Will any other still photography be included?
Mark Rance: Actually, we ran out of time. We now know where there is a lot of it' actually, we almost know where there is a lot of it. We need to probably find one more person to make the contact, and then again, that may be more Second Season stuff. The Second Season boxed set will be way more loaded than this one is'. And that's on purpose.
Dugpa: Were you guys able to secure any of the commercials originally broadcast on ABC during the Series run?
Mark Rance: There you get into licensing nightmares. People have gotten spoiled by Criterion, as a model. Having worked there for many years, those days are gone. On the one hand, acquiring commercials and things like that legally for DVD is not only incredibly expensive right now, but very difficult. We will try. Like the Japanese Coffee commercials.
Dugpa: That would be very cool. The Georgia Coffee commercials are on many Twin Peaks Fans wish lists.
Mark Rance: We are working toward that, but I don't know what the success rate will be.
Dugpa: One of the big questions of course has been whether or not we can expect Deleted Scenes to be released with these sets'
Mark Rance: No. In part because the material from which the stuff is made are now in disarray. To the best of our knowledge, constructing Deleted Scenes was not possible. That's why we went with the script to screen comparison. So although you won't be able to see Deleted Scenes, you will kind of know what there could have been and what there was.
Dugpa: Tell me, having done interview segments for both the Twin Peaks Series DVDs as well as the Twin Peaks: Fire Walk With Me DVD, what are the major differences between working on the two?
Mark Rance: We were very conscious that we were shooting for both discs. It's basically what the people are talking about. The Fire Walk With Me piece is cut very differently. It is approved by Lynch, and that's good for us to hear. It is a lot wackier. The interviews for the TV series are a little straighter. We tried to get the flavor of what went into Twin Peaks and Fire Walk With Me in particular for the disc of the movie, but on this one it is a more traditional, Criterion approach to honor the work that went into the First Season.
Dugpa: That sounds great.
Mark Rance: I think actually, that it's really good. I love the menus. John Paul did this amazing job. Very elegant, and dark, and not cliché. I believe there may be only one piece of pie in the whole thing. Thank God! ' and no coffee. We tried to get to the heart of the series without using the common icons that you see regarding it.
Dugpa: Thank you Mark, for taking the time to do this interview.
Mark Rance: Well, I am a huge fan of Lynch, and the Series of course. This has been like 'candy'. It's just so great to work on something so wonderful. When we got to get to know the entire cast and crew' what a wonderful group of people. I hope that we convey that in this piece and all the things that we have added.